Entity: Cooperation with the Jerusalem Foundation and the Bloomfield Science Museum in Jerusalem
Project Type:Core
Duration of Support: Ongoing (2006 - )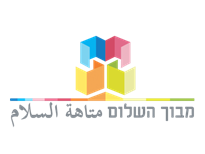 "Peace Labyrinth" is an international exhibition, which is based on a model developed by the Dutch organization "Peace Education Projects". It is displayed in different variations in a number of cities throughout Europe, as well as in Israel.
The exhibition enables children and teenagers to examine issues, perceptions, viewpoints and dilemmas associated with inter-personal and inter-group relations. Through interactive exhibits, the project provides an educational supporting platform designed to cope with conflicts, challenges, perceptions and stances towards daily conflicts.
The "Peace Labyrinth" is presented in both Hebrew and Arabic and is aimed at the general public in Israel. During the first two years of its display in Israel, the "Peace Labyrinth" exhibition was presented in the Bloomfield Science Museum in Jerusalem to over 7,000 4th to 8th grade students from East and West Jerusalem.
Since 2009, the exhibition is presented in the Archaeological Museum at Kibbutz Ein Dor. The museum is located in the north of Israel and has many years of experience in bringing Jewish and Arab students together, as well as educating to promote dialogues between peoples, religions and cultures, for democracy, tolerance and environmental involvement. Somewhat 18,000 people have attended the exhibition in Ein Dor.
Link to view a short movie about the Exhibition (in three languages - Hebrew, English and Arabic): http://www.youtube.com/view_play_list?p=37447163B4CC8C29
The Project was initiated by both the Olivestone Trust and the Jerusalem Foundation.
Gil Erez, a Board Member and Founder of the Olivestone Trust, is a member of the project's steering committee.